You are here: Home » Products » Solar Power System » Solar Battery » 192V 384V High Voltage LifePo4 Lithium Ion Battery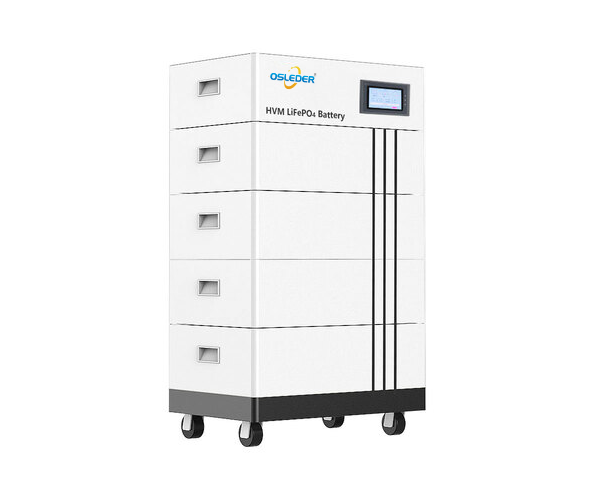 192V 384V High Voltage LifePo4 Lithium Ion Battery
Capable of High-Powered Emergency-Backup and Off-Grid Functionality
Highest Efficiency Thanks to a Real High-Voltage Series Connection
The Quick Plug Connector Design Quick Wiring and Allows for Maximum Flexibility and Ease of Use
Grand A Lithium Iron Phosphate (LFP) Battery: Maximum Safety, Life Cycle, and Power
Compatible With Leading High Voltage Battery Inverters
Highest Safety Standards
| | |
| --- | --- |
| Array Mode: | 15S |
| Nominal Voltage (V): | 48 |
| Charge Voltage (V): | 54.7 |
| Discharge Cut-off Voltage (V): | 40 |
| Max. Continuous Charging Current (A): | 100 |
| Cycle Life: | ≥6000 times@80%DOD, 25°C |
| Communication Mode: | RS485/CAN |
Key Features of 192V 384V High Voltage LifePo4 Lithium Ion Battery:
EASY INSTALLATION
Modular & Stacked Design,Simple Expansion.
Flexible Capacity Options, 4.8KWh-38.4KWh.
Up to 8 battery packs can be used in series.
There are universal wheels at the bottom, you can move the position.
Simple and stylish appearance design, designed with touch screen, simple and convenient operation.
SAFE & RELIABLE
Excellent safety of cobalt free LiFePo4 battery.
Built-in BMS intelligent protection.
With over-temperature, over-discharge, over-charge protection, as well as over-current, current interruption, overload and other protection functions.
WHOLE SYSTEM SERVICE
Compatible with a variety of energy storage inverters.
Support UPS function to achieve 24-hour uninterrupted power supply.
 Full power continuous output guarantee, safe electricity use.
Technical Specifications of 192V 384V High Voltage LifePo4 Lithium Ion Battery:
Model:
HVB-15S100AH
HVB-30S100AH
HVB-45S100AH
HVB-60S100AH
Number of Modules:
1
2
3
4
Battery Capacity:
100Ah
Battery Energy (KWh):
4.8kwh
9.6kwh
14.4kwh
19.2kwh
Size(L×W×H):
574×395×134mm
574×395×302mm
574×395×470mm
574×395×638mm
Weight:
49kg
88kg
127kg
166kg
Standard Charge/ Discharge Current:
75A
100A
Model::
HVB-75S100AH
HVB-90S100AH
HVB-105S100AH
HVB-120S100AH
Number of Modules:
5
6
7
8
Battery Capacity:
100A
Battery Energy (KWh):
24kwh
28.8kwh
33.6kwh
38.4kwh
Battery Energy:
24kwh
28.8kwh
Size(L×W×H):
574×395×806mm
574×395×974mm
574×395×1142mm
574×395×1310mm
Weight:
205kg
244kg
283kg
322kg
Standard Charge/ Discharge Current:
100A
Production Process of 48V 5KWH-50KWH Rack mounted lithium iron phosphate battery energy storage system lithium battery pack:
Since 2012, OSLEDER has gained rich experience in designing and manufacturing the most efficient and robust hybird solar inverters and the most complete off-grid solar system. A focus on testing, quality control, and traceability ensures our solar power system offers an industry-leading warranty and reliability guarantee. Invest in yourself by going OSLEDER. This will be your most economical long-term investment yet.

Ease of installation was a key factor when I chose a supplier for our LED light installation. Osleder didn't disappoint on this. Performance of the lights greatly outshone every expectation that I had, even at a 20% dimmed level activated by the sensors we requested. I would certainly have Osleder as a front-runner for any future LED projects on our sites.
Osleder Lighting delivered a reduction in our energy costs of 78% and the installation looks outstanding. The lighting really is great and I am really pleased with the whole job from start to finish.
Sign up for our Newsletter