You are here: Home » Products » LED Tri-proof Light » Standard 0/1-10V Dimmable AL Tri-proof » 0/1-10V Dimmable LED Tri-proof Lighting AL Housing 1500mm 80w 8200Lm 3000K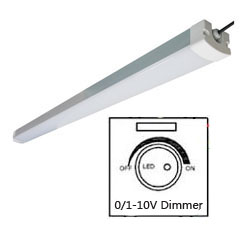 0/1-10V Dimmable LED Tri-proof Lighting AL Housing 1500mm 80w 8200Lm 3000K
| | |
| --- | --- |
| Power: | 80 W |
| Control type: | 0/1-10V Dimming |
| Color Temperature(CCT): | 6000 K |
| Luminous Flux (LM): | >8000 LM |
| Certification: | CE, Rohs, SAA, C-Tick, UL |
| Warranty: | 5 Years |
Control type: 0-10V
0-10 V is one of the earliest and simplest electronic lighting control signaling systems; simply put, the control signal is a DC voltage that varies between zero and ten volts. The controlled lighting should scale its output so that at 10 V, the controlled light should be at 100% of its potential output, and at 0 V it should at 0% output (i.e. "Off"). Dimming devices may be designed to respond in various patterns to the intermediate voltages, giving output curves that are linear for: voltage output, actual light output, power output, or perceived light output.
A typical 0-10V wiring diagram is shown below: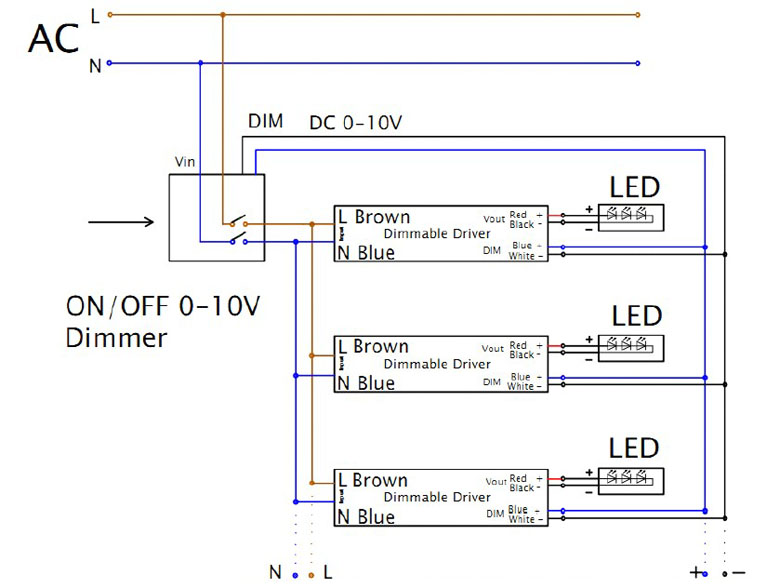 Control type: 1-10V
Continuous dimming via analog control signal.
1-10V feature enables analog dimming in a step-less manner. Light levels can be set anywhere between 10% to 100% of light output. By connecting a 1-10V equiped driver to a light point controller, the feature can provide continuous dimming. When combined with a switch device unit (SDU), 1-10 V duplicates the dimming function of LineSwitch for cabinet control.
A typical 1-10V wiring diagram is shown below: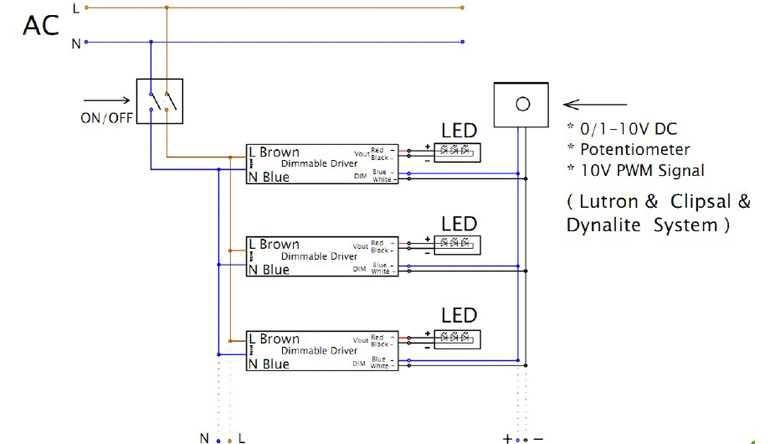 Product benefits
Functional design
High light output thanks to high-power LED
Quick and simple installation
With exceptional rated lifetimes
Zero restrike time
A compact lightweight construction
Provides additional benefits of energy savings
Significantly reduced relamp maintenance costs.
Areas of application
Suitable for indoor and outdoor applications
Commercial lighting: Supermarket/Shops/Exhibition hall/Parking place/gas station;
Public lighting: library/School/Tunnel/Metro/Bus/Train/Bus station, railway/station, airport;
Industrial lighting: Factory/Warehouse and Etc.
Product features
Waterproof, dust-proof, corrosion proof
Type of protection: IP65
Efficacy up to 130 LPW
Input Voltage: 85-265VAC
Powerfactor(PF):>95%
Epistar Chip
Ease of installation was a key factor when I chose a supplier for our LED light installation. Osleder didn't disappoint on this. Performance of the lights greatly outshone every expectation that I had, even at a 20% dimmed level activated by the sensors we requested. I would certainly have Osleder as a front-runner for any future LED projects on our sites.
Osleder Lighting delivered a reduction in our energy costs of 78% and the installation looks outstanding. The lighting really is great and I am really pleased with the whole job from start to finish.
Sign up for our Newsletter