You are here: Home » Products » Solar Garden Light
Types of Solar Garden Lights for Sale
What are solar lights?
Solar lights are an environmentally friendly alternative to traditional battery-operated bulbs. They are often used outdoors and can illuminate pathways, yards, and gardens. Solar lights come in a variety of styles and sizes, each with its own unique features.
Solar lights are made up of a solar panel, a rechargeable battery, and a light source. The solar panel collects energy from the sun and converts it into electricity which is then stored in the rechargeable battery. The light source is used to produce light. The solar panel is a photovoltaic cell that absorbs the sun's energy and creates an electrical charge that moves through the panel. Wires from the solar cell are connected to the battery, which converts and stores the power as chemical energy until it's needed, such as to power a light at night or recharge a mobile phone.
What Are the Components of Solar Street Light?
Solar street light composed of solar panel, controller, battery, light source,etc. When there is sunlight, the solar panel will absorb the solarlight and transfer the solar energy into electricity. The electricity will be stored in the rechargeable battery. In the night, when the sun is gone, the electricity stored in the battery will power the street light to provide illumination. This is especially convenient for off-grid areas. Let's go through the details of these components.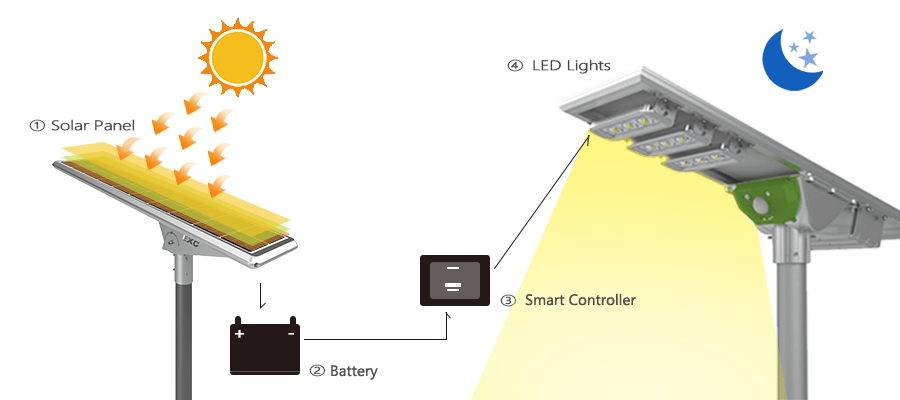 How do solar lights work?
Solar lights work efficiently due to a process that involves 5 steps:
A solar panel receives energy from the sun
The solar panel converts solar energy into electricity
Electrical power charges the batteries
The batteries are activated at night-time
The solar light switches on automatically
How to choose solar lights?
When choosing a solar light you need to consider how it will fit in with your property, garden, and any other exterior areas. You can also look at the solar path lights' specifications to find the highest quality lights.
Important tech specs include the IP rating, brightness (number of lumens), number of lights, battery life, solar panel quality, and the design of the lighting fixture.
Ultimately, the best solar lights will have high brightness levels and good battery life. You should also look for good-value solar lights that will add a modern look to your property.
Solar Lights FAQs
Q1.

 
What are the benefits of outdoor solar lighting?
A1.

 

Simple installation is the best reason to choose them. They don't require any wiring or other power sources, making it easy to place them in the ground. You'll also be grateful when your power bill comes since these lights aren't using electricity. Safety is another reason to choose solar lights. Since they don't use power cords or electricity, they are safe for use near ponds or swimming pools.
Q2.

 
How long does outdoor solar lighting last?
A2.  

A solar battery's lifespan can be anywhere between five and 15 years. Replacement batteries can also be ordered from OSLEDER. The LED light bulbs will run up to 100,000 hours each and are not replaceable.
Q3. 
How do I take care of my outdoor solar lighting?
A3. 

Because solar lights are powered by direct sunlight, they need to be cleaned periodically from dust or mud, so they can easily store energy for the night. They also do not work as well during the winter or on cloudy days, so you may want to store your them indoors during rainy or snowy seasons. Switch them to the off position when they are not being used and store them in a dark place.
Q4. 
Is outdoor solar lighting weatherproof?
A4. 

While solar lights are designed for all temperatures, the models that include glass should not be left outdoors if you receive a lot of rain or snow. They should not be exposed to windstorms or extreme storms, either, as they can easily be damaged. You can buy hanging fixtures if you're worried about your lights blowing away; hanging lights also work well for lining swimming pools, ponds and creeks.