You are here: Home » Products » Solar Power System » On Grid Solar System » 60KW to 150KW Three Phase On-Grid Solar System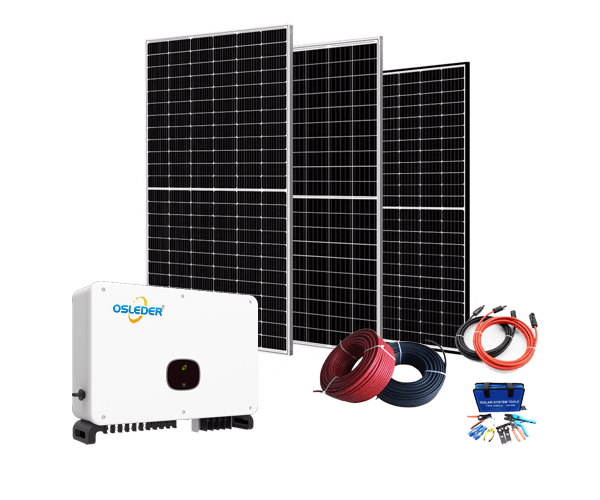 60KW to 150KW Three Phase On-Grid Solar System
On gird solar power system can help to reduce the electricity cost and also can sell the electricity to the utility grid, if your government have policy to encourage the private sell electricity to the utility grid, this type of system will be perfect.
| | |
| --- | --- |
| Inverter: | Grid Tied Inverter |
| Output Voltage (V): | 110V/220V/230V/240V/380V |
| Output Frequency: | 50/60Hz |
| Mounting Structure: | on roof mounting bracket |
| Controller Type: | MPPT Controller |
| Battery Type: | Lithium Ion, NONE |
| AC Output Waveform: | Pure Sine Wave |
    In an on-grid solar system, the array of solar panels are connected with the solar inverter, which is connected to the grid through your electricity meter. The solar panel converts sunlight into DC electricity which is then converted into alternating current better known as AC power. This AC power is the standard electrical current used for powering most home appliances and luxuries throughout the world.
    During the day, if the solar system's production exceeds the house's electrical needs, the excess electricity is automatically fed into the power grid via "Net-Metering". When this occurs, you can observe the electrical meter spin backward.
   At night or anytime a household is using more electricity than the solar system is producing, the extra energy needed to power the house is pulled from the grid as it normally would be.
Advantages of 60KW to 150KW Three Phase On-Grid Solar System:
Save more money with net metering.
A grid-connection will allow you to save more money with solar panels through better efficiency rates, net metering, plus lower equipment and installation costs. Grid-tied solar systems are therefore generally cheaper and simpler to install than off Off-Grid solar systems.
The utility grid is a virtual battery.
Electricity has to be spent in real time. However, it can be temporarily stored as other forms of energy (e.g. chemical energy in batteries). Energy storage typically comes with significant losses.The electric power grid is in many ways also a battery, without the need for maintenance or replacements, and with much better efficiency rates. In other words, more electricity (and more money) goes to waste with conventional battery systems.
Applications of 60KW to 150KW Three Phase On-Grid Solar System

:
The 60KW to 150KW On-Grid Solar Power System can use for solar power system, light, radio, DVD, TV set, fans, freezer, computers, small hand-drill, communication equipment and the other house appliances.
House,Farm,Remote, Island,Mountain…
Components of 60KW to 150KW Three Phase On-Grid Solar System

:
SOLAR PANEL

Poly Solar Panel, Mono Solar Panel, PERC- High Voltage & High Efficiency
Using high efficiency solar cells.
Low-light Performance.
Durability Against Extreme Environ Mental Conditions.
High quality junction box and connector systems.
Guarantee the reliability of Solar Products.

ON GRID SOLAR INVERTER

MPPT tracker,MAX.efficiency up to 98.5%
Zero export application,VSG application.
String intelligent monitoring(optional)
Wide output voltage range.
Compact and light design for easy installation.
Intelligent air cooling;
Numerous protection fucntions;
Phone APP monitoring available.

PV MOUNTING STRUCTURE(MOUNTING BRAKETS)

Roof type mounting rack.
Including complete fittings.
Aluminum alloy.
Rack can be customized per request.

ACCESSORIES

AC Cable.
AC Breaker.
DC Switches.
PV Cable & MC4 Connector.
Components List of 60KW to 150KW Three Phase On-Grid Solar System

:
On Grid Solar Power System Model:
OPS-60KW-C
OPS-80KW-C
OPS-100KW-C
OPS-120KW-C
OPS-150KW-C
On Grid Inverter:
60KW
80KW
100KW
120KW
150KW
580W Mono Solar Panel:
104 Pieces
138 Pieces
173 Pieces
207 Pieces
259 Pieces
DC Cable:
800 Meters
800 Meters
1000 Meters
1200 Meters
1500 Meters
MC4 Connector:
20 Pairs
25 Pairs
30 Pairs
40 Pairs
50 Pairs
PV Panel Mounting Bracket:
Ground or Roof ( Customized Optional )
Production Process of 60KW to 150KW Three Phase On-Grid Solar System:
Since 2012, OSLEDER has gained rich experience in designing and manufacturing the most efficient and robust hybird solar inverters and the most complete off-grid solar system. A focus on testing, quality control, and traceability ensures our solar power system offers an industry-leading warranty and reliability guarantee. Invest in yourself by going OSLEDER. This will be your most economical long-term investment yet.

Ease of installation was a key factor when I chose a supplier for our LED light installation. Osleder didn't disappoint on this. Performance of the lights greatly outshone every expectation that I had, even at a 20% dimmed level activated by the sensors we requested. I would certainly have Osleder as a front-runner for any future LED projects on our sites.
Osleder Lighting delivered a reduction in our energy costs of 78% and the installation looks outstanding. The lighting really is great and I am really pleased with the whole job from start to finish.
Sign up for our Newsletter