You are here: Home » Products » Solar Power System » Solar Battery » 12v / 12.8V Solar Lithium Iron Phosphate Battery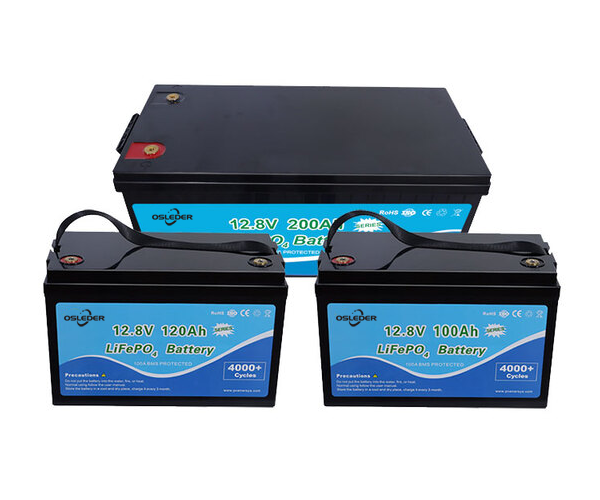 12V Lithium ion Battery Deep Cycle Replace Lead Acid
This Battery is for replacing the Lead-Acid battery, High Energy Density, Long Cycle Life, High Discharge-Charge Rate,can be used in Solar and Residential Storage and Home Backup,as well as Telecom Backup appcilations.
| | |
| --- | --- |
| Array Mode: | 4S |
| Nominal Voltage (V): | 12.8 |
| Charge Voltage (V): | 14.6 |
| Discharge Cut-off Voltage (V): | 10 |
| Max. Continuous Charging Current (A): | 100 |
| Cycle Life: | ≥6000 times@80%DOD, 25°C |
| Communication Mode: | RS485/CAN |
Lithium iron phosphate battery is a replacement for lead-acid batteries, which can be used in energy storage and power fields. Compared with traditional lead-acid batteries, lithium battery packs are small in size and light in weight. The price of lithium batteries has dropped rapidly, and it has gradually become a trend to replace traditional lead-acid batteries with lithium batteries.
Compared with lead-acid batteries, lithium batteries have the following advantages:
Small size and light weight: only 30% of the weight of lead-acid batteries.
Environmental protection: lead-free, in line with new energy environmental protection requirements.
Long life: more than 2000 cycle life, lifespan up to 10 years.
High power: can provide twice the power output of lead-acid batteries.
Temperature range: Wider temperature use environment, low temperature discharge is better than lead-acid batteries.
Flexibility: Modular design, 4 serials and multiple parallels can be realized.
Technical Specifications of 12v / 12.8V Solar Lithium Iron Phosphate Battery:
Model:
LPB-4S100AH
LPB-4S120AH
LPB-4S200AH
Basic Characteristics
Battery Type:
LifePo4 Lithium Battery
Array Mode:
4S
Nominal Energy (KWh):
1.2KWH
1.55KWH
2.55KWH
Typical Capacity(AH):
100AH
120AH
200AH
Typical Voltage(V):
12.8V
Charging
Characteristics
Charge Voltage (V):
14.6V
Standard Charging Current(A):
20A
24A
40A
Max.Continuous Charging Current (A):
100A
Discharge
Characteristics
Standard Discharge Current:
20A
24A
40A
Max.Continuous Discharging Curent (A):
100A
Peak Discharge Current:
200A(3S)
Discharge Cut-off Voltage (V):
10V
Environmental
Requirements
Charge Temperature Range:
0~60°C
Discharge Temperature Range:
-10°C~65°C
Storage Temperature Range:
-5~40°C
Storaqe Humidity:
65±20%HR
Mechanical
Characteristics
Size(LxWxH) :
330x173x215mm
330x173x215mm
521x238x218mm
Net Weight (Kg):
12.1kg
13.8kg
25.2
Package Size (LxWXH) :
382x222x265mm
382x222x265mm
557x292x275mm
Gross Weight (Kg):
13.6kg
15.3kg
27.2kg
Package Method:
1pcs per carton
Others
Characteristics
Cycle Life:
≥6000 times@80%DOD, 25°C
Communication Mode:
RS485/CAN
Self Discharge
2% per month
SOC Indication
LED Light& LCD Screen
Production Process of 12v / 12.8V Solar Lithium Iron Phosphate Battery:
Since 2012, OSLEDER has gained rich experience in designing and manufacturing the most efficient and robust hybird solar inverters and the most complete off-grid solar system. A focus on testing, quality control, and traceability ensures our solar power system offers an industry-leading warranty and reliability guarantee. Invest in yourself by going OSLEDER. This will be your most economical long-term investment yet.

Ease of installation was a key factor when I chose a supplier for our LED light installation. Osleder didn't disappoint on this. Performance of the lights greatly outshone every expectation that I had, even at a 20% dimmed level activated by the sensors we requested. I would certainly have Osleder as a front-runner for any future LED projects on our sites.
Osleder Lighting delivered a reduction in our energy costs of 78% and the installation looks outstanding. The lighting really is great and I am really pleased with the whole job from start to finish.
Sign up for our Newsletter