You are here: Home » Products » Solar Power System » Solar Battery » 48V 5KWH-50KWH Rack mounted lithium iron phosphate battery energy storage system lithium battery pack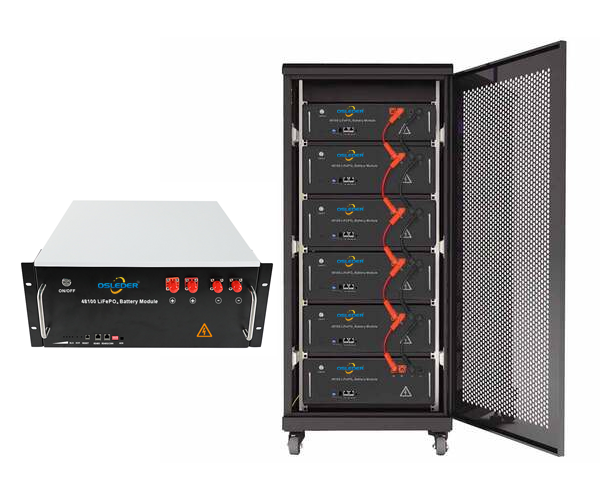 48V 5KWH-50KWH Rack mounted lithium iron phosphate battery energy storage system lithium battery pack
The 48v Rack Mount Lithium Battery is an ideal solution for residential storage applications, with a standard specification of 48V/100AH, up to 90% usable capacity, and a guarantee of 6000 life cycles. 48V rack type battery series include 48V 50ah LifePO4 battery, 48V 100Ah LifePO4 battery
| | |
| --- | --- |
| Array Mode: | 15S |
| Nominal Voltage (V): | 48 |
| Charge Voltage (V): | 54.7 |
| Discharge Cut-off Voltage (V): | 40 |
| Max. Continuous Charging Current (A): | 100 |
| Cycle Life: | ≥6000 times@80%DOD, 25°C |
| Communication Mode: | RS485/CAN |
Rack-mount Lithium Batteries —— More secure and cost-effective power source!
OSLEDER continues to pursue breakthroughs in battery performance, to put lithium batteries with larger capacity, higher security, smaller volume, and longer service life into the 19-inch standard cabinet, fully integrating excellent performance with small and flexible features, and having absolute advantages in size, layout, operation and maintenance, and cost, so as to make the application of lithium battery more extensive and provide more choices for different needs of customers Choose.
Key Features of 48v Rack Mount Lithium Battery:
In parallel to enlarge energy, Standard 3U and 4U case.
Intelligent lithium battery management system.
Warning functions such as overcharge andoverdischarge.
4850 3U standard size, you canuse a universal 19-inch cabinet, configure different power levels, simple and convenient..
Long life Equipped with charge balanceability, cycle life is more than 2000 times.
Pack type energy storage battery can provide power for communication base stations.
Add the current limiting module, support multiple battery parallel use, expand the battery capacity, meet the high energy demand of customers.
Cabinet-type energy storage batteries are widely used in UPS to store power.
With RS485 communication, you can monitor the battery status at any time and set protection parameters such as charge and discharge according to customers'requirements
Cabinet energy storage batteries can also be used as home backup power.
Technical Specifications of 48v 50ah/100ah Rack Mount Lithium Battery:
Model:
RMB-15S50AH
RMB-15S100AH
Basic Characteristics
Battery Type:
LifePo4 Lithium Battery
Array Mode:
15S
Nominal Energy (KWh):
2.4KWH
4.8KWH
Typical Capacity(AH):
50AH
100AH
Typical Voltage(V):
48V
Charging
Characteristics
Charge Voltage (V):
54.7V
Standard Charging Current(A):
10A
20A
Max.Continuous Charging Current (A):
50A
100A
Discharge
Characteristics
Standard Discharge Current:
10A
20A
Max.Continuous Discharging Curent (A):
50A
100A
Peak Discharge Current:
200A(3S)
Discharge Cut-off Voltage (V):
40V
Environmental
Requirements
Charge Temperature Range:
0~60°C
Discharge Temperature Range:
-10°C~65°C
Storage Temperature Range:
-5~40°C
Storaqe Humidity:
65±20%HR
Mechanical
Characteristics
Size(LxWxH) :
453x493x133mm
515x493x175mm
Net Weight (Kg):
127.5kg
41kg
Package Size (LxWXH) :
530x480x230mm
530x540x260mm
Gross Weight (Kg):
39.5kg
47kg
Package Method:
1pcs per carton
Others
Characteristics
Cycle Life:
≥6000 times@80%DOD, 25°C
Communication Mode:
RS485/CAN
Self Discharge
2% per month
SOC Indication
LED Light& LCD Screen
Production Process of 48V 5KWH-50KWH Rack mounted lithium iron phosphate battery energy storage system lithium battery pack:
Since 2012, OSLEDER has gained rich experience in designing and manufacturing the most efficient and robust hybird solar inverters and the most complete off-grid solar system. A focus on testing, quality control, and traceability ensures our solar power system offers an industry-leading warranty and reliability guarantee. Invest in yourself by going OSLEDER. This will be your most economical long-term investment yet.

Ease of installation was a key factor when I chose a supplier for our LED light installation. Osleder didn't disappoint on this. Performance of the lights greatly outshone every expectation that I had, even at a 20% dimmed level activated by the sensors we requested. I would certainly have Osleder as a front-runner for any future LED projects on our sites.
Osleder Lighting delivered a reduction in our energy costs of 78% and the installation looks outstanding. The lighting really is great and I am really pleased with the whole job from start to finish.
Sign up for our Newsletter