You are here: Home » Products » Solar Power System » Solar Battery » Gel Solar Battery Deep Cycle Lead Acid Battery For Solar Storage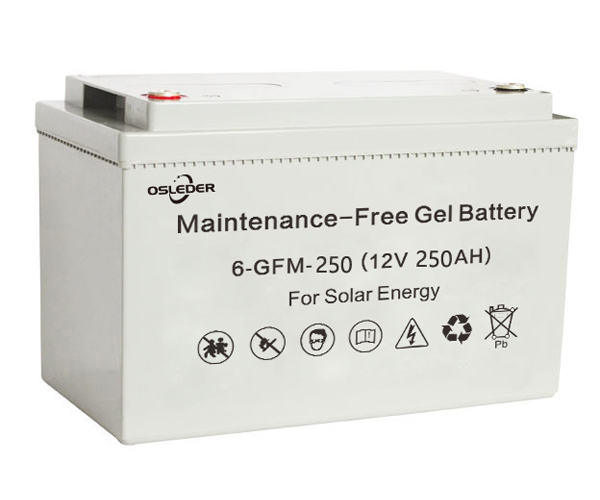 Gel Solar Battery Deep Cycle Lead Acid Battery For Solar Storage
A gel battery is a maintenance-free, valve-regulated, sealed lead-acid (SLA) battery.
As the name suggests, gel cell batteries are fitted with an immobile and highly viscous electrolyte. This jelly-like electrolyte is composed of silica and sulfuric acid. The gel is similar to silicone gel in appearance and composition and is used as a thickening agent. This helps to enhance the gel-type battery's internal structural integrity. And it holds the lead plates and active material in position.
Battery Type:
GEL Battery
Nominal Voltage (V):
12V
Charge Voltage (V):

13.6V~13.8V

Max. Continuous Charging Current (A):

60A

Storage Temperature:

 

-4~140°F/ -20°C~60°C

Cycle Life:

750 Cycles (50% DOD)

Self-discharge Rate (77°F/25°C):

 

<3% / month
The main advantage lead-acid has over other types of solar batteries is the price. Lead-acid is the cheapest. Lead-acid batteries are up to 2-3 times cheaper than lithium!
The gel 'glues' onto the lead plates, essentially combining the electrolyte and plates into one single piece.
Sealed gel batteries are also recombinant batteries.
This means that the negative plate absorbs the oxygen produced on the positive plate during discharge, thanks to the seal and the pressure valve.
Now, instead of producing and releasing hydrogen gas, the negative plate produces water.
This prevents water loss and maintains the battery's water content.
For these reasons, gel battery maintenance is virtually non-existent.
Gel Battery Advantages:
Maintenance-free, with no need for regular watering.
Spill- and leak-proof.
Can be mounted in any position.
Offer more resistance to extreme temperatures.
Better withstands shock and vibration.
Classified as non-hazardous materials for road transportation.
Offers extremely low self-discharge rates.
No gassing, making them safe to install in places with limited ventilation.
They do not experience corrosion.
Offers excellent deep-cycle performance.
Can be installed or used near sensitive electronic equipment.
What Are Gel Batteries Used For? Gel batteries are used in low power demanding equipment like:
Floor scrubbers and sweepers.
Walkie pallet jacks.
Wheelchairs.
RVs.
Cars.
Boats.
Cell phones.
Technical Specifications of Gel Solar Battery Deep Cycle Lead Acid Battery For Solar Storage:
| | | | | |
| --- | --- | --- | --- | --- |
| Model: | Capacity(AH) | Voltage(V) | Size(mm) | Weight(KG) |
| GEL-12V50AH | 50 | 12 | 229*138*208 | 14.7 |
| GEL-12V65AH | 65 | 12 | 350*167*179 | 16.2 |
| GEL-12V100AH | 100 | 12 | 329*172*214 | 26.20 |
| GEL-12V120AH | 120 | 12 | 406*174*233 | 32.90 |
| GEL-12V150AH | 150 | 12 | 484*171*240 | 38.00 |
| GEL-12V200AH | 200 | 12 | 522*240*218 | 55.50 |
| GEL-12V250AH | 250 | 12 | 520*268*220 | 65.50 |
DESCRIPTION
【Maintenance Free & No Leakage】 This battery is comprised of gel instead of liquid, so there is no maintenance required to keep the battery working properly. Manufactured with an advanced valve regulated technology, OSLEDER Deep Cycle Hybrid GEL Batteries save you from acid leakage and frequent maintenance.
【Extended Service Lifetime】 Corrosion-resistant grids enable a design life of up to 12 years in standby applications and more than 750 charge/discharge cycles at 50% DOD in cyclic applications.
【Longer Shelf Life】 Made of high purity materials, OSLEDER Deep Cycle Hybrid GEL Batteries reduce the monthly self-discharge rate below 3% at 77℉ (25℃), which is 5 times lower than their Flooded counterparts. No need to recharge the dormant battery frequently.
【Excellent Deep Discharge Recovery】 Proprietary plate composition and patented gel electrolyte ensures excellent recovery capability after excessive deep discharge. This means that GEL batteries can discharge more and still be recharged like new. Unlike Flooded batteries, they are not allowed to discharge too much.
【Install Them Anywhere】 Maintenance free, no leakage, no toxic gas generation, vibration resistant, and stable performance at high (140°F) and low (-4°F) temperature make Renogy Deep Cycle Hybrid GEL Batteries able to be used in virtually any position. They can run in various systems, including marine, RV, van, off-grid, home backup power, and more!
Production Process of Gel Solar Battery Deep Cycle Lead Acid Battery For Solar Storage:
Since 2012, OSLEDER has gained rich experience in designing and manufacturing the most efficient and robust hybird solar inverters and the most complete off-grid solar system. A focus on testing, quality control, and traceability ensures our solar power system offers an industry-leading warranty and reliability guarantee. Invest in yourself by going OSLEDER. This will be your most economical long-term investment yet.

Ease of installation was a key factor when I chose a supplier for our LED light installation. Osleder didn't disappoint on this. Performance of the lights greatly outshone every expectation that I had, even at a 20% dimmed level activated by the sensors we requested. I would certainly have Osleder as a front-runner for any future LED projects on our sites.
Osleder Lighting delivered a reduction in our energy costs of 78% and the installation looks outstanding. The lighting really is great and I am really pleased with the whole job from start to finish.
Sign up for our Newsletter