You are here: Home » Products » Solar Power System » Solar Battery » Power wall 48v/51.2V Solar LifePo4 Lithium Battery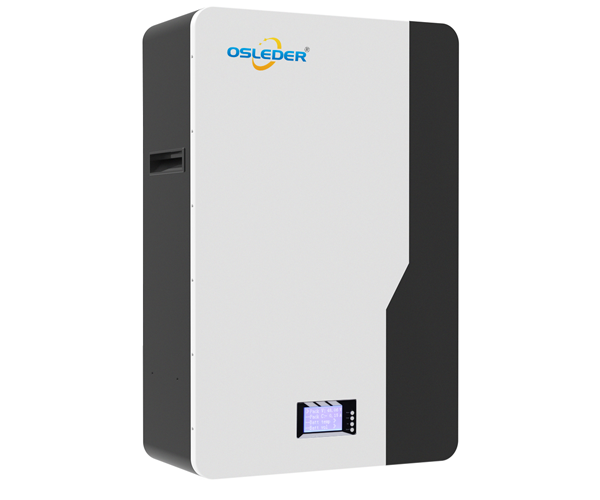 Power wall 48v Solar LifePo4 Lithium Battery
The power wall solar battery is a wall mounted lithium battery pack which consists of long span LiFePO4 battery cells and functional BMS. OSLEDER energy storage LifePO4 cells battery pack can replace the traditional lead-acid battery perfectly, and can exchange information with various types of solar energy storage, widely used for off-grid, grid-tie and other solar energy storage systems; used for outdoor lighting, emergency or temporary electricity needed, field working, also for family standby power.
| | |
| --- | --- |
| Nominal Energy (KWh): | 10 |
| Nominal Voltage (V): | 51.2 |
| Charge Voltage (V): | 58.4 |
| Discharge Cut-off Voltage (V): | 42 |
| Standard Charging Current(A): | 40 |
| Cycle Life: | ≥6000 times@80%DOD, 25°C |
| Communication Mode: | RS485/CAN |
Key Features of Power wall 48v/51.2V Solar LifePo4 Lithium Battery:
Small size and light weight.
Modular design, higher integration, and saves installation space.
100Ah and 200Ah powerwall, support up to 15 modules in parallel..
High-quality 51.2V 48V 200Ah LifePO4 Powerwall Battery, safety, deep cycle and long lifespan.
External main switch to reduce product power consumption and improve safety.
Wall brackets, which can meet the installation and use of different place.
BMS bulit inside, over-voltage, over-load, over-temperature protection, atc.
Compatible, can be connected to different types of loads within the voltage range.
Energy storage battery has high output power and usable energy ratio, can reach 95% usable ratio.
Highly compatible BMS, seamless connection with energy storage inverter.
High energy, low power lithium battery equipment achieves higher energy supply, lower energy consumption, and reduces environmental pollution.
Technical Specifications of 

Power wall 48v/51.2V Solar LifePo4 Lithium Battery

:
Model:
LPB-16S100AH
LPB-16S200AH
Basic Characteristics
Battery Type:
LifePo4 Lithium Battery
Array Mode:
16S
Nominal Energy (KWh):
5KWH
10KWH
Typical Capacity(AH):
100AH
200AH
Typical Voltage(V):
51.2V
Charging
Characteristics
Charge Voltage (V):
58.4V
Standard Charging Current(A):
20A
40A
Max.Continuous Charging Current (A):
100A
Discharge
Characteristics
Standard Discharge Current:
20A
40A
Max.Continuous Discharging Curent (A):
100A
Peak Discharge Current:
200A(3S)
Discharge Cut-off Voltage (V):
42V
Environmental
Requirements
Charge Temperature Range:
0~60°C
Discharge Temperature Range:
-10°C~65°C
Storage Temperature Range:
-5~40°C
Storaqe Humidity:
65±20%HR
Mechanical
Characteristics
Size(LxWxH) :
445x170x510mm
445x206x675mm
Net Weight (Kg):
47kg
85kg
Package Size (LxWXH) :
575x520x335mm
750x520x385mm
Gross Weight (Kg):
68kg
110kg
Package Method:
1pcs per carton
Others
Characteristics
Cycle Life:
≥6000 times@80%DOD, 25°C
Communication Mode:
RS485/CAN
Self Discharge
2% per month
SOC Indication
LED Light& LCD Screen
Production Process of Power wall 48v Solar LifePo4 Lithium Battery:
Since 2012, OSLEDER has gained rich experience in designing and manufacturing the most efficient and robust hybird solar inverters and the most complete off-grid solar system. A focus on testing, quality control, and traceability ensures our solar power system offers an industry-leading warranty and reliability guarantee. Invest in yourself by going OSLEDER. This will be your most economical long-term investment yet.

Ease of installation was a key factor when I chose a supplier for our LED light installation. Osleder didn't disappoint on this. Performance of the lights greatly outshone every expectation that I had, even at a 20% dimmed level activated by the sensors we requested. I would certainly have Osleder as a front-runner for any future LED projects on our sites.
Osleder Lighting delivered a reduction in our energy costs of 78% and the installation looks outstanding. The lighting really is great and I am really pleased with the whole job from start to finish.
Sign up for our Newsletter