You are here: Home » Products » Solar Power System » solar-controller » MPL Series MPPT Solar Charge Controller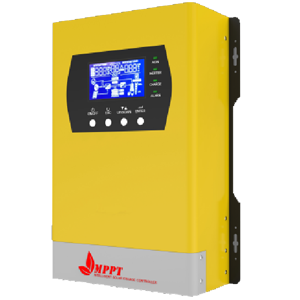 Manufacturer Supply 98% Efficiency MPPT solar charge controller 12V 24V 48V 40A 60A 80A 100A for Lifep04, Sealed, Gel, AGM, Flooded, Lithium Battery
| | |
| --- | --- |
| System voltage: | 12/24V/36V/48V  Automatic adaption |
| Rated charging current: | 40A/60A/80A/100A |
| Rated discharge current: | 40A/60A/80A/100A |
| PV Maximum Input Voltage: | 17V~150V |
| Charging mode: | MPPT maximum power point tracking |
| Working temperature: | -20~+55℃ |
The most cost-effective solar controller, FACTORY PRICE, OEM service.
MPPT (Maximum Power Point Tracking)Solar Charge Controller offer an efficient, safe, multi-stage recharging process that prolongs battery life and assures peak performance from a solar array. Each Charge Controller allows customized battery recharging.

High Efficiency Charging Method, MPPT Maximum Power Point Tracking, Intelligent Control, Input and output over-voltage protection, Battery Reverse Connect Protection
12V/24V/36V/48V DC Voltage adaptive 40A 60A 80A 100A available.
Three-stage smart charging, Adjustable parameters by pressing buttons, 12V/24V/48V adaptive.
Production: High voltage protection,Over load protection,Battery reverse connected protection, Low voltage protection, Overheating protection, Output short-circuit protection.
The maximum utilization rate of solar energy can reach 99%, With super fast charging algorithm, efficiency increased by 30%.
PV input range is wide, users can choose different numbers of solar panels according to actual conditions.
Under the maximun benefit of energy collection conditions, fast Charging, absorption charging, floating charging, etc. maintain the battery life.
Display: can display PV voltage, PV power, battery voltage, charging current, working temperature, fault code.
With over charge, over discharge, overload, open circuit protection, over temperature protection, short circuit automatic protection.
Applications: Home Appliances/yacht and boat/Telccom Equipment/Street light and CCTV system/cavaran/agriculture and fishery…
Product parameters:
Model:
MPL40
MPL60
MPL80
MPL100
System Voltage:
12/24V/36V/48V  Automatic adaption
Rated charging current:
40A
60A
80A
100A
Rated discharge current:
40A
60A
80A
100A
Charging mode:
MPPT maximum power point tracking
Applicable battery type:
Lithium Battery, Sealed lead acid battery, GEL lead acid battery, open lead acid battery (can also customize parameters for other types of battery charging
Charging method:
Three stages: constant current, constant voltage, floating charge
PV input maximum open circuit voltage (VOC):
DC150V
Starting time:
≤10s
Dynamic response recovery time:
≤500us
Static power:
≤1W
≤1.2W
Overall efficiency:
≥98.5%
≥99.5%
System identified voltage:
12V
8~16V
24V
17~30V
36V
30~42V
48V
42~64V
Photovoltaic input voltage:
12V
17~150V
24V
30~150V
36V
41~150V
48V
53~150V
Solar panel rated input power:
12V
540W
800W
1040W
1300W
24V
1080W
1600W
2080W
2600W
36V
1620W
2400W
3240W
3900W
48V
2160W
3200W
4160W
5200W
Load voltage:
Same as the battery voltage
Nominal load current:
40A
60A
80A
100A
Load control method:
Normally on&off mode
Load undervoltage protection
10.5V*N(N stands for batteries number)Parameters can be adjustable
Display:
HD LCD backlight display
Protections:
Input and output over-voltage protection, input and output anti-reverse protection, over-temperature protection, load over-current protection
Working temperature:
-20℃~+50℃
Storage temperature:
-40℃~+70℃
Accoustic Noise(db):
≤50dB
Humidity:
0~90%RH
orking altitude:
0~3000M
Dimension, L×W×H:
180*300*110mm
440*325*120mm
Net Weight(KG):
4.3KG
9.46KG
Production Process of MPPT solar charge controller:
Since 2012, OSLEDER has gained rich experience in designing and manufacturing the most efficient and robust hybird solar inverter
s and the most complete off-grid solar system. A focus on testing, quality control, and traceability ensures our solar power system offers an industry-leading warranty and reliability guarantee. Invest in yourself by going OSLEDER. This will be your most economical long-term investment yet.

Ease of installation was a key factor when I chose a supplier for our LED light installation. Osleder didn't disappoint on this. Performance of the lights greatly outshone every expectation that I had, even at a 20% dimmed level activated by the sensors we requested. I would certainly have Osleder as a front-runner for any future LED projects on our sites.
Osleder Lighting delivered a reduction in our energy costs of 78% and the installation looks outstanding. The lighting really is great and I am really pleased with the whole job from start to finish.
Sign up for our Newsletter