You are here: Home » Products » Solar Power System » solar-controller » MZA Series PWM Solar Charge Controller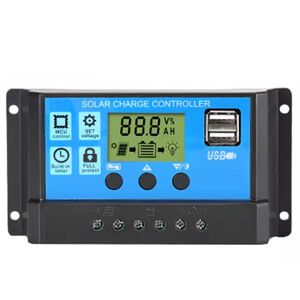 Factory wholesale 10A 20A 30A 12V 24V Auto adapt pwm solar charge controller
| | |
| --- | --- |
| System voltage: | 12/24V  Automatic adaption |
| Rated charging current: | 10A 20A 30A |
| Rated discharge current: | 10A |
| PV Maximum Input Voltage: | 12V system < 23V/24V system < 46V |
| USB output:: | 5V/2A |
| Working temperature: | -20~+55℃ |
The most cost-effective solar controller, FACTORY PRICE, OEM service.
Free samples are available, Welcome to contact us for test sample.

Lead acid battery Regulator PWM Solar Charge Controller
12V/24V Auto 10A 20A 30A 40A 50A 60A available.
Build-in industrial micro controller.
Big LCD display,all adjustable parameter.
Fully 4-stage PWM charge management.
Build-in short-circuit protection,open-circuit protection,reverse protection,over-load protection.
Dual mosfet Reverse current protection ,low heat production.
Double USB Socket.
Aluminum alloy injection port.
Plastic shell + iron back plate. 4.12V/24V Auto adapt, small size, easy to operate.
LCD, programing parameter. Data memory function.
Using PCB industrial grade chip, harsh environment adapt.
Product parameters:
Model:
MZA10
MZA20
MZA30
System Voltage:
12/24V  Automatic adaption
Rated charging current:
10A
20A
30A
Rated discharge current:
10A
PV Maximum Input Voltage:
12V system < 23V/24V system < 46V
Increase charging voltage:
b1 Sealed type
b2 Gel type
b3 Open type
14.4V
14.2V
14.6V
Floating charge voltage:
13.7V,(Adjustable range:12.7V-15V)
Discharge cut-off voltage:
10.7V,(Adjustable range: 9V-11.3V)
Discharge recovery voltage:
12.6V,(Adjustable range: 11.5V-13V)
USB output:
5V/2A
Standby current:
<10mA
Working temperature:
-20~+55℃
Size / weight:
133*70*35mm/133g
Production Process of PWM solar charge controller:
Since 2012, OSLEDER has gained rich experience in designing and manufacturing the most efficient and robust hybird solar inverter
s and the most complete off-grid solar system. A focus on testing, quality control, and traceability ensures our solar power system offers an industry-leading warranty and reliability guarantee. Invest in yourself by going OSLEDER. This will be your most economical long-term investment yet.

Ease of installation was a key factor when I chose a supplier for our LED light installation. Osleder didn't disappoint on this. Performance of the lights greatly outshone every expectation that I had, even at a 20% dimmed level activated by the sensors we requested. I would certainly have Osleder as a front-runner for any future LED projects on our sites.
Osleder Lighting delivered a reduction in our energy costs of 78% and the installation looks outstanding. The lighting really is great and I am really pleased with the whole job from start to finish.
Sign up for our Newsletter