You are here: Home » Products » Solar Power System » solar-controller » MZC Series PWM Solar Charge Controller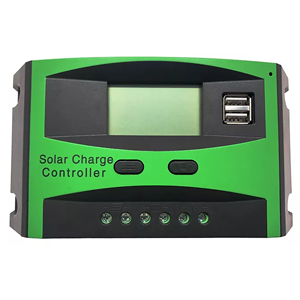 Factory wholesale 12V/24V/48v Intelligent PWM solar charge controller
| | |
| --- | --- |
| System voltage: | 12V/24V Auto adapt and 48V) |
| Suitable Battery type: | Sealed/GEL/Flood |
| Charge Type: | PWM |
| PV Maximum Input Voltage: | 50V |
| USB output:: | 5V/3A |
| Working temperature: | -20°c -+55°c |
12v 24V 48V solar battery charger control system regulator 60A 50A 40A 30A 20A 10A PWM solar charge controller .
Free samples are available, Welcome to contact us for test sample.

Lead acid battery Regulator PWM Solar Charge Controller
12V/24V/48V Automatically switch, 10A 20A 30A 40A 50A 60A available.
【Wide Compatibility】

The solar charger controller is compatible with 12V or 24V or 48V system automatically, suitable for lead-acid

batteries. Dual USB 5V output ports support mobile phones, tablet PCs or other devices that require 5V voltage.

【Reliable Protection】Solar charge regulator provides over-current protection, short-circuit protection, inverse connection protection, low voltage and overcharge protection, a reliable protector for your devices.
【Intelligent Controller】Build-in industrial microcontroller for automatical management, memorizing various parameters set by the user and the data won't be lost when the battery runs out.
【Digital LCD Display】Intuitive LCD display that can clearly indicate the status and data is able to switch modes and aprameter configuration, suitable for home, industrial, commercial, etc.
【Easy to Use】The charge controller should connect the battery first, then the solar panel, and finally the load! You can change the settings by the simple one-button operation.
Product parameters:
Model:
MZC10
MZC20
MZC30
MZC40
MZC50
MZC60
System Voltage:
12V/24V Auto adapt and 48V
Rated charging current:
10A
20A
30A
40A
50A
60A
Rated discharge current:
10A
20A
30A
40A
50A
60A
PV Maximum Input Voltage:
50V(12/24V) , 100V( 24V/48V)
LVD:
  10.5V( 9-11V), 21V(18-22V), 42V(36-44V)
LVR:
 12.6V(11-13.5V), 25.2V(22-27V),  50.4V(44-54V)
Floating charge voltage:
13.8V(13-15V), 27.6V(26-30V),55.2V(52-60V)
Increase the charge:
14.4V/28.8V/57.6V The battery voltage is below 12V/24V/48V start extra charge for
Battery overpressure protection:
  15V/ 30V/ 60V
Input reverse connection protection:
Yes
Load over current protection:
 Yes, every two seconds to restart
Charging mode:
PMW
Operating temperature:
    -20°c -+55°c
Terminal scale:
28-10AWG
Waterproof level:
   IP32
product size(mm):
168*90*46
193*110*42
201*125*56
Packing size(mm):
182*94*48
200*117*44
208*128*59
Carton Dimension(mm):
495*380*270
430*365*275
438*380*285
PC/Carton:
50PCS
30PCS
24PCS
G.W(kg):
15
14.5
17
Production Process of PWM solar charge controller:
Since 2012, OSLEDER has gained rich experience in designing and manufacturing the most efficient and robust hybird solar inverter
s and the most complete off-grid solar system. A focus on testing, quality control, and traceability ensures our solar power system offers an industry-leading warranty and reliability guarantee. Invest in yourself by going OSLEDER. This will be your most economical long-term investment yet.

Ease of installation was a key factor when I chose a supplier for our LED light installation. Osleder didn't disappoint on this. Performance of the lights greatly outshone every expectation that I had, even at a 20% dimmed level activated by the sensors we requested. I would certainly have Osleder as a front-runner for any future LED projects on our sites.
Osleder Lighting delivered a reduction in our energy costs of 78% and the installation looks outstanding. The lighting really is great and I am really pleased with the whole job from start to finish.
Sign up for our Newsletter