You are here: Home » Products » Solar Power System » Solar Inverter » 3000W to 4000W Pure Sine Wave Hybrid Solar Inverter For Home Solar System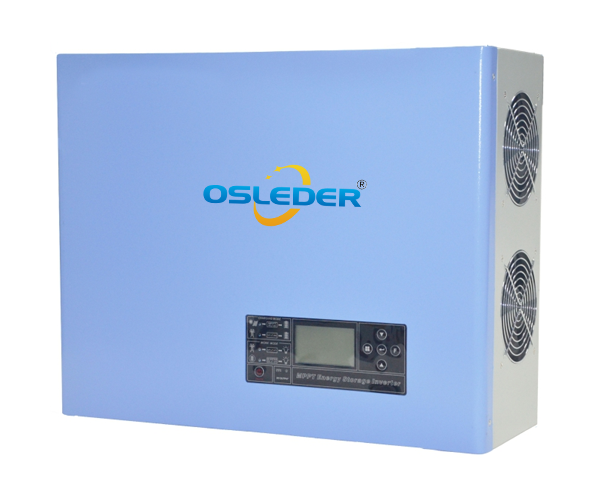 3000W to 4000W Pure Sine Wave Hybrid Solar Inverter For Home Solar System
An inverter is one of the key components of a solar power system that converts direct current (DC) produced by the solar panels into alternating current (AC) for home-based appliances. A solar panel setup with a conventional inverter requires a separate inverter to transform AC to DC, back and forth. However, a solar panel system with a hybrid inverter does not require a separate battery inverter. Interestingly, hybrid inverters can also be installed without batteries.
| | |
| --- | --- |
| Brand:: | OSLEDER |
| Order(MOQ): | 1 PCS |
| Payment: | T/T, L/C, Paypal, Western Union |
| Product Origin: | China |
| Shipping Port: | Guangzhou, Shenzhen, Shanghai |
| Lead Time: | 10-20 Days After Payment Received |
| Warranty: | 10 Years Linear Warranty |
Key Features of 3000W to 4000W Pure Sine Wave Hybrid Solar Inverter For Home Solar System:
1. Constant Power Supply:
A hybrid solar power system, with the aid of storage batteries that are connected to the inverter, provides an uninterrupted power supply. In case of an electricity outage, the batteries function as an inverter and provide backup.
2. Optimal Utilisation of the Renewable Resource:
A battery system connected to a hybrid system ensures maximum utilisation of the abundant solar radiation on bright sunny days. Therefore, such a system results in optimal usage of solar radiation by storing energy on sunny days and using the stored power when there is an overcast.
3. Low Maintenance:
A hybrid solar inverter is a low-maintenance system, especially compared to traditional sources of energy. Since there is no fuel involved, a hybrid inverter does not require frequent servicing.
The Specification of 3000W to 4000W Pure Sine Wave Hybrid Solar Inverter:
Model:
HSI-3KW30A
HSI-3KW60A
HSI-4KW60A
HSI-4KW60A96V
Rated Capacity:
3000W(5000VA)
4000W(6000VA)
Work Mode:
Grid Priority/Battery Priority(optional)
Charge Mode:
PV priority/ PV+Grid(optional)
LCD Display:
Internal and External temperature, record query (fault record), System information query
Max.PV input voltage(Vdc):
12V (DC18V~DC150V);24V(DC34V~DC150V); 48V(DC65V-150V); 96V(DC130-DC180V)
Max.charge current(A):
30A
60A
60A
60A96V
Battery voltage(Vdc):
24V/48V
24V/48V
24V/48V
96V
Max.PV input power(W):
840W/1650W
1700W/3400W
840W/1650W
6800W
Battery float voltage(Vdc):
12V(13.75V);24V(27.5V)48V(55V);96V(110V)
Battery equalizing charge voltage(Vdc):
12V(14.2V); 24V(28.4V);48V(56.8V);96V(113.6V)
Solar storage inverter PV input Voltage range(Vdc):
DC65V-150V
Battery Type:
Lead acid/gel/lithium(optional, factory setting)
Charge Model:
Improve charge ,direct charge, float charge
AC charge current(A):
Standard:0-30A
AC output voltage(Vac):
110/220/230/240±3%
AC output frequency(Hz):
50/60±3%
Conversion Efficiency:
≥85%
Overload Capacity:
105-120% 30S;120-150% 10S;>150% 5S
Output Wave:
Pure sine wave
Output power factor:
≥0.8(>30% Load)
Wave form distortion:
≤3%
Switching time:
≤4mS
Complete protections:
DC&AC overload,under-voltage,SPD,short-circuit,overcharge,over discharge,over-temperature,ect
Over discharge:

24V/DC21;48V/DC42V Shut down after alarm

 

 

 

Over charge:
24V/DC32;48V64V Shut down after alarm
High temperature:
85° auto shut down after alarm
Short circuit:
Auto shut down
Cooling method:
Fan cooling
Noise[dB]:
<60dB
Operating temperature(℃):
-10 ℃~ 50 ℃
Environment humidity:
10% ~ 90%(No condensation)solar pv inverter
Working Elevation(M):
<5000 (>1000m,Derating)
The Production Process of Hybrid Solar Inverter :
Since 2012, OSLEDER has gained rich experience in designing and manufacturing the most efficient and robust hybird solar inverter
s and the most complete off-grid solar system. A focus on testing, quality control, and traceability ensures our solar power system offers an industry-leading warranty and reliability guarantee. Invest in yourself by going OSLEDER. This will be your most economical long-term investment yet.

Ease of installation was a key factor when I chose a supplier for our LED light installation. Osleder didn't disappoint on this. Performance of the lights greatly outshone every expectation that I had, even at a 20% dimmed level activated by the sensors we requested. I would certainly have Osleder as a front-runner for any future LED projects on our sites.
Osleder Lighting delivered a reduction in our energy costs of 78% and the installation looks outstanding. The lighting really is great and I am really pleased with the whole job from start to finish.
Sign up for our Newsletter