You are here: Home » Products » Solar Power System » Solar Inverter » 3000W to 4000W Pure Sine Wave Off-Grid Solar Inverter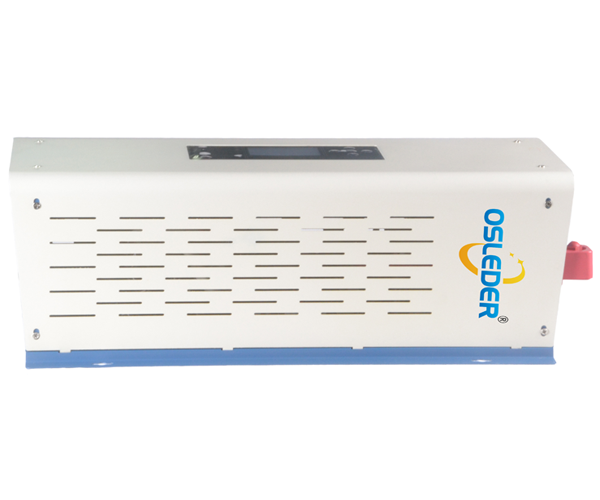 3000W to 4000W Pure Sine Wave Off Grid Solar Inverter
A solar inverter is really a converter, though the rules of physics say otherwise. A solar power inverter converts or inverts the direct current (DC) energy produced by a solar panel into Alternate Current (AC.)
| | |
| --- | --- |
| Brand:: | OSLEDER |
| Order(MOQ): | 1 PCS |
| Payment: | T/T, L/C, Paypal, Western Union |
| Product Origin: | China |
| Shipping Port: | Guangzhou, Shenzhen, Shanghai |
| Lead Time: | 10-20 Days After Payment Received |
| Warranty: | 10 Years Linear Warranty |
Key Features of 3000W to 4000W Pure Sine Wave Off-Grid Solar Inverter:
1. Solar Off Grid Inverter 100% sufficient transformer and advanced wire design to ensure that the inverter can output at full load
2. 

Solar Off Grid Inverter has four functions: UPS, voltage regulation, inverter and charging.
3. Support lithium batteries, lead-acid batteries and other batteries.
4. 

The user can adjust various charging parameters and discharge parameters through the display.
5. There is a mobile phone APP. You can browse the various parameters of the inverter operation through the mobile phone
The Specification of 3000W to 4000W Pure Sine Wave Off-Grid Solar Inverter:
Model:
PSWI-3KW24V
PSWI-3KW48V
PSWI-4KW24V
PSWI-4KW48V
Rated Capacity:
3000W(5000VA)
4000W(6000VA)
Function
Setting
Chinese & English option, Time &Date setting ,Contrast ,lightness, Switch voltage, Grid charge, clear record ,operating parameter, discharge limited setting, Reset…
Work Mode:
Grid Priority/Battery Priority(optional)
Charge Mode:
PV priority/ PV+Grid(optional)
LCD Display:
Internal and External temperature, record query (fault record), System information query
Grid input
Battery Type:
Lead acid/gel/lithium(optional, factory setting)
Charge current:
0-30A Optional
Charge Model:
Improve charge ,direct charge, float charge
AC output
AC charge current(A):
Standard:0-30A
AC output voltage(Vac):
110/220/230/240±3%
AC output frequency(Hz):
50/60±3%
Conversion Efficiency:
≥85%
Overload Capacity:
105-120% 30S;120-150% 10S;>150% 5S
Output Wave:
Pure sine wave
Output power factor:
≥0.8(>30% Load)
Wave form distortion:
≤3%
Switching time:
≤4mS
Protect funtion
Overload capacity:

105-120% 30S;120-150% 10S;>150% 5S

Over discharge:

24V/DC21;48V/DC42V Shut down after alarm

 

 

 

Over charge:
24V/DC32;48V64V Shut down after alarm
High temperature:
85° auto shut down after alarm
Short circuit:
Auto shut down
Others
Switching time:
≤4mS
Cooling method:
Fan cooling
Noise[dB]:
<60dB
Operating temperature(℃):
-10 ℃~ 50 ℃
Environment humidity:
10% ~ 90%(No condensation)solar pv inverter
Working Elevation(M):
<5000 (>1000m,Derating)
The Production Process of Pure Sine Wave Off-Grid Solar Inverter :
Since 2012, OSLEDER has gained rich experience in designing and manufacturing the most efficient and robustpure Sine Wave Off-Grid 
solar inverter
s and the most complete off-grid solar system. A focus on testing, quality control, and traceability ensures our solar power system offers an industry-leading warranty and reliability guarantee. Invest in yourself by going OSLEDER. This will be your most economical long-term investment yet.

Ease of installation was a key factor when I chose a supplier for our LED light installation. Osleder didn't disappoint on this. Performance of the lights greatly outshone every expectation that I had, even at a 20% dimmed level activated by the sensors we requested. I would certainly have Osleder as a front-runner for any future LED projects on our sites.
Osleder Lighting delivered a reduction in our energy costs of 78% and the installation looks outstanding. The lighting really is great and I am really pleased with the whole job from start to finish.
Sign up for our Newsletter