You are here: Home » Products » Solar Power System » Solar Inverter » 400w and 300w Modified Sine Wave Off-Grid Solar Power Inverter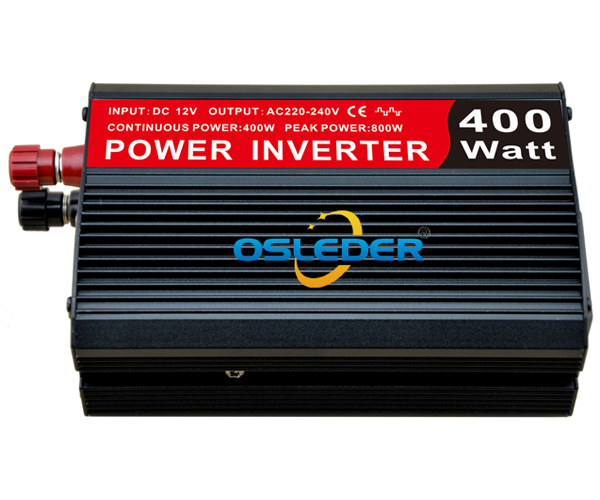 400w and 300w Modified Sine Wave Off-Grid Solar Power Inverter
Modified sine wave switching inverter power supply adopts PWM pulse width modulation technology to produce modified wave output.
| | |
| --- | --- |
| Brand:: | OSLEDER |
| Order(MOQ): | 1 PCS |
| Payment: | T/T, L/C, Paypal, Western Union |
| Product Origin: | China |
| Shipping Port: | Guangzhou, Shenzhen, Shanghai |
| Lead Time: | 10-20 Days After Payment Received |
| Warranty: | 10 Years Linear Warranty |
Key Features of 400w and 300w Modified Sine Wave Off-Grid Solar Power Inverter:
Suitable for nomial power home appliances and equipments, such as phone, lamp, camera, shaver, CD, fan and so on.
Strong anti-shock function, especially designed for used in the car.
Equipped with USB output socket.
With small, novel structure and appearance.
Adopting all-mental aluminum shell, making the inverter safer.
Independent research and development design, adopting the latest high-frequency PWM technology and big IRF high power transistor imported from U.S.A.
Equipped with national, American, European and Austrakian standard plug.
With over 90% of conversion efficiency.
Professional design and many protection functions(overheat, overvoltage, under voltage, overload, over current etc).
Adopting special process transformer, making the inverters work more stable and reliable, and with more load capacity etc.
The Specification of 400w and 300w Modified Sine Wave Off-Grid Solar Power Inverter:
Model:
WSWI-300W12V
WSWI-300W24V
WSWI-300W48V
WSWI-400W12V
WSWI-400W24V
WSWI-400W48V
Continuous Power:
300W
400W
Peak Power:
600W
800W
Input Voltage:
DC 12V
DC 24V
DC 48V
DC 12V
DC 24V
DC 48V
Working Voltage:
DC 9.5V-15.5V
DC 20-30V
DC 40-60V
DC 9.5V-15.5V
DC 20-30V
DC 40-60V
Input Current:
25A
12.5A
6.3A
33A
16A
8.3A
Conversion Efficiency:
>85%
Output Voltage:
AC 100V-120V/210-240V
Output Current:
2.7A/1.3A
3.6A/1.8A
Output Frequency:
50Hz-60Hz
Wave Form:
Modified Sine Wave
USB Output Voltage:
DC 5V(800mA)
Thermal Protection:
≤70℃
Operating Temperature:
0℃~40℃
Cooling:
By Intelligent Fan
Under Voltage(V):
10±1V
20±1V
40±1V
10±1V
20±1V
40±1V
Over Voltage(V):
15±1V
30±1V
60±1V
15±1V
30±1V
60±1V
Protections:
Undervoltage: LED red light, buzzer alarm, restart recovery
Overvoltage: LED red light, restart recovery
Overload、high temperature: LED red light, restart recovery
Reverse connect: Blown fuse
Pure sine wave
Net Weight:
700g
700g
Gross Weight:
900g
900g
Size:
185*102*58mm
185*102*58mm
Carton:
535*435*310mm  20Pieces/Carton
535*435*310mm  20Pieces/Carton
The Production Process of Modified Sine Wave Off-Grid Solar Power Inverter :
Since 2012, OSLEDER has gained rich experience in designing and manufacturing the most efficient and robustpure Modified Sine Wave Off-Grid 
solar inverter
s and the most complete off-grid solar system. A focus on testing, quality control, and traceability ensures our solar power system offers an industry-leading warranty and reliability guarantee. Invest in yourself by going OSLEDER. This will be your most economical long-term investment yet.

Ease of installation was a key factor when I chose a supplier for our LED light installation. Osleder didn't disappoint on this. Performance of the lights greatly outshone every expectation that I had, even at a 20% dimmed level activated by the sensors we requested. I would certainly have Osleder as a front-runner for any future LED projects on our sites.
Osleder Lighting delivered a reduction in our energy costs of 78% and the installation looks outstanding. The lighting really is great and I am really pleased with the whole job from start to finish.
Sign up for our Newsletter