You are here: Home » Products » Solar Power System » Solar Panels » Half cut cells Monocrystalline PERC Silicon Solar Panel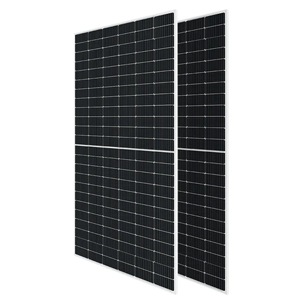 With 22.8% Module Efficiency Half Cut Cell Monocrystalline PERC Solar Panel
Half-cut cell mono PERC solar modules have solar cells that are cut in half, which improves the solar module's performance and durability. Traditional 60-cell and 72-cell solar panels will have 120 half-cut cells and 144 half-cut cells, respectively. When solar cells are halved, their current is also halved, so resistive losses are lowered and the solar cells can produce more power.
| | |
| --- | --- |
| Brand:: | OSLEDER |
| Order(MOQ): | 1 Pallet |
| Payment: | T/T, L/C, Paypal, Western Union |
| Product Origin: | China |
| Shipping Port: | Guangzhou, Shenzhen, Shanghai |
| Lead Time: | 10-20 Days After Payment Received |
| Warranty: | 25 Years Linear Warranty |
Key Features of Half cut cells Monocrystalline PERC Solar Panel:
Higher Cell-to-Module power:
Half-cut solar panels can be manufactured in combination with PERC technologies, which can translate as PV modules with fewer power losses, a higher power output, and several other advantages.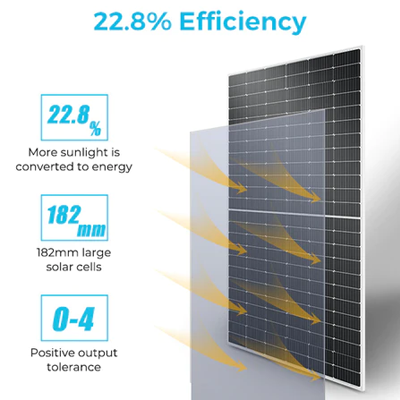 More Power, Less Space:
Engineered with industry-leading technologies, this high-powered solar panel provides maximum power generation for your limited roof space.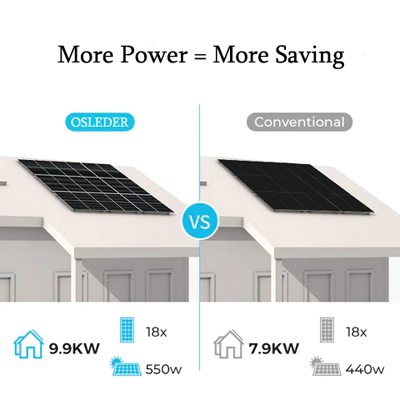 Increased partial shading tolerance:
When a PV module is partially shaded, this causes major power losses for the module and the array. Half-cut solar cells include twice the substrings, meaning that shading a single area of a panel will cause reduced losses. Studies show that half-cut solar cell panels produce up to 50% fewer power losses in an array.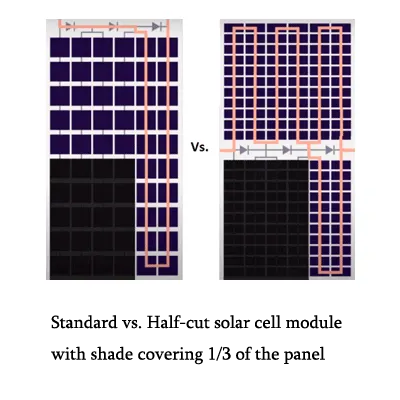 Reliable and Durable:
Corrosion-resistant aluminum frame provides extended outdoor use that ensures the panel can last for decades. The IP68 rated junction box and solar connectors can withstand dirt, dust, debris, and water splashes.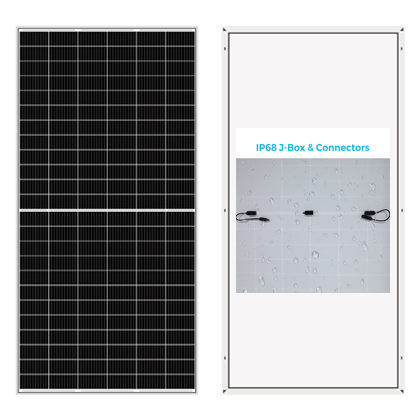 The Specification of Half cut cells Monocrystalline PERC Solar Panel:
| | | | |
| --- | --- | --- | --- |
| Power: | Vmp: | Imp: | Dimension: |
| 550W | 41.96V | 13.11A | 2279*1134*35mm |
| 500W | 48.7V | 10.27A | 1956*1310*40mm |
| 450W | 48.1V | 9.36A | 1956*1310*40mm |
| 380W | 39.5V | 9.62A | 1956*992*40mm |
| 350W | 38.8V | 9.02A | 1956*992*40mm |
| 310W | 33.7V | 9.2A | 1640*992*35mm |
| 270W | 31.2V | 8.65A | 1640*992*35mm |
| 200W | 24.5V | 8.16A | 1330*992*35mm |
| 150W | 18.5V | 8.11A | 1480*680*35mm |
| 120W | 18.7V | 6.42A | 1020*680*35mm |
| 100W | 18.9V | 5.3A | 1010*540*25mm |
The Production Process of Monocrystalline solar panel:
Since 2012, OSLEDER has gained rich experience in designing and manufacturing the most efficient and robust solar panels and the most complete off-grid solar system. A focus on testing, quality control, and traceability ensures our solar power system offers an industry-leading warranty and reliability guarantee. Invest in yourself by going OSLEDER. This will be your most economical long-term investment yet.

Ease of installation was a key factor when I chose a supplier for our LED light installation. Osleder didn't disappoint on this. Performance of the lights greatly outshone every expectation that I had, even at a 20% dimmed level activated by the sensors we requested. I would certainly have Osleder as a front-runner for any future LED projects on our sites.
Osleder Lighting delivered a reduction in our energy costs of 78% and the installation looks outstanding. The lighting really is great and I am really pleased with the whole job from start to finish.
Sign up for our Newsletter