You are here: Home » Products » Solar Power System » Solar Panels » Polycrystalline Solar Panel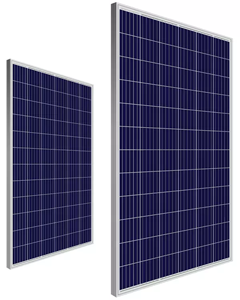 Good Price Solar Generator Polycrystalline Solar Panel
Polycrystalline or Multicrystalline solar panels are solar panels that consist of several crystals of silicon in a single PV cell. Several fragments of silicon are melted together to form the wafers of polycrystalline solar panels.
| | |
| --- | --- |
| Brand: | OSLEDER |
| Order(MOQ): | 1 Pallet |
| Payment: | T/T, L/C, Paypal, Western Union |
| Product Origin: | China |
| Shipping Port: | Guangzhou, Shenzhen, Shanghai |
| Lead Time: | 10-20 Days After Payment Received |
| Warranty: | 25 Years Linear Warranty |
Details of Polycrystalline Solar Panel:
Polycrystalline Solar cells

1.High Efficiency PV Cells

2. Appearance Consistency

3.Color sorting ensure consistent appearance on each module

4.Anti-PID

1.Ture clear low iron glass

2.Translucency of normal luminance is increased 2%

3.Module efficiency is increased 2%

4.Service life is as long as 25 years

1.Silvery and black
2. Thickness 30/35/40/45/50mm

3.Boost bearing capability and prolong service life

4.Serrated-clip design tensile strength

5.Seal-lip designglue injection

1.Prevent the aluminum frame from scratching the hand
2.Using the rain to clean dirt remaining on the solar module

1.Quality diode ensures module running safety
2. IP68 protection level
3. Long service life

4. Heat dissipation

1.Low moisture permeability against snail trail defect
2.Excellent electric insulation for high system voltage up to 1500v
3.Outstanding weatherproof performance
The Specification of Polycrystalline Solar Panel:
| | | | |
| --- | --- | --- | --- |
| Power: | Maximum Power Voltage: | Maximum Power Current: | Dimension: |
| 350W | 38.9V | 9.00A | 1956*992*40mm |
| 300W | 32.35V | 9.23A | 1640*992*35mm |
| 270W | 31.5V | 8.57A | 1640*992*35mm |
| 200W | 24.5V | 8.16A | 1330*992*35mm |
| 150W | 18.7V | 8.02A | 1480*680*35mm |
| 120W | 18.5V | 6.49A | 1130*680*35mm |
| 100W | 18.9V | 5.3A | 1020*680*35mm |
Key Features of

Polycrystalline Solar Panel

:
Photon independent field testing – Ranked in the top 2 of 176 international suppliers.
Excellent low irradiance performance, PID resistance.
Positive tight power tolerance of 3%.
Dual stage 100% EL Inspection warranting defect-free product.
Module Imp binning radically reduces string mismatch losses.
arranted reliability and stringent quality assurances well beyond certified requirements.
Certified to withstand severe environmental conditions.
    1.Anti-reflective & anti-soiling surface minimise power loss from dirt and dust.
    2.Severe salt mist, ammonia & blown sand resistance, for seaside,farm and desert environments.
    3.Excellent mechanical load 2400Pa & snow load 5400Pa resistance.
The Production Process of Polycrystalline Solar Panel:
Since 2012, OSLEDER has gained rich experience in designing and manufacturing the most efficient and robust solar panels and the most complete off-grid solar system. A focus on testing, quality control, and traceability ensures our solar power system offers an industry-leading warranty and reliability guarantee. Invest in yourself by going OSLEDER. This will be your most economical long-term investment yet.

Ease of installation was a key factor when I chose a supplier for our LED light installation. Osleder didn't disappoint on this. Performance of the lights greatly outshone every expectation that I had, even at a 20% dimmed level activated by the sensors we requested. I would certainly have Osleder as a front-runner for any future LED projects on our sites.
Osleder Lighting delivered a reduction in our energy costs of 78% and the installation looks outstanding. The lighting really is great and I am really pleased with the whole job from start to finish.
Sign up for our Newsletter