You are here: Home » Products » Solar Power System » Solar Storage » All in One Portable Solar Energy Home System(300w to 1500w)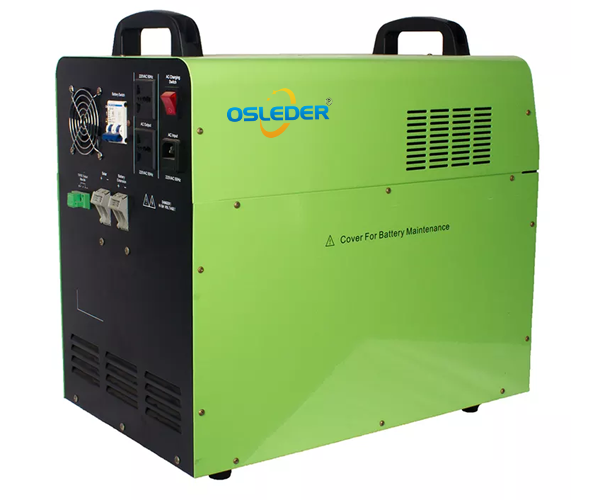 All in One Portable Solar Energy Home System(300w to 1500w)
This product uses portable design. Supplying power for small power load,it has a built-in battery and a built-in solar controller,With an efficient PWM charge mode,the battery can operate in the best status and have a long life.The system has a 12VDC and 5VDC output terminal.
| | |
| --- | --- |
| solar panel: | Mono or poly panel of class A |
| Control mode: | Efficient PWM |
| Charge current: | 5A/12V or 10A/12V |
| DC output: | DC5VUSB and DC12v |
| Battery tpye : | Deep -cycle maintenance -free lead -acid battery |
| Rated charge current: | 30A |
| 5V DC USB output port: | 2/max 2A |
Key Features of All-in-One Off-Grid Solar Energy Storage System:
All-in-one unit of solar hybrid inverter+LiFePO4 battery or Gel battery pack.
Configurable AC/Solar in Priority Via LCD seting.
Smart battery charger design with optimized battery performance.
Compatible to Grid utility / Generator.
External WIFI devices Optional.
Parallel Operation upto 6 units.
Power for office and home.
LiFePO4 pack inside with BMS function.
All-in-one solar energy storage system is a great option for people with average power use, such as small offices and homes. They are particularly suited to small families or couples.
Technical Specifications of All in One Portable Solar Energy Home System:
Model:
APE-300W12V
APE-500W12V
APE-500W24V
APE-1000W24V
APE-1500W24V
Battery rated voltage(vdc):
12V
24V
Specification of built-in battery:
1*55Ah/12V
2*55Ah/12V
4*55Ah/12V
Inverter
Rated power(w):
300
500
500
1000
1500
Output voltage(vac):
110/220VAC
Output frequency(Hz):
50/60Hz
Output wave:
Pure Sine Wave
Power Grid input
Rated voltage:
110/220V AC-*("*"mean an optional function)
Charge current:
10A(maximum)-*(*means an optional function)
5A (maximum)-*(*means an optional function)
PV input
Maxi PV input voltage:
≤25V
≤50V
Voltage of overcharge protection:
10-25V
20-50V
Rated charge current:
30A
Maximum power:
360Wp
720Wp
DC output
5VDC USB output:
2 /MAX 2A
12VDC output ports
2 DC ports + backboard 12V terminal block (maximum 8A)
Heat dissipation/Cooling:
Temperature control by intelligent exhaust fan
Operating ambient temperature:
-20 – +50℃
Storage ambient temperature:
-25 – +55℃
Operating/Storage ambient:
0-90% No condensation
Production Process of 

Portable Solar Energy Home System

:
Since 2012, OSLEDER has gained rich experience in designing and manufacturing the most efficient and robust hybird solar inverter
s and the most complete off-grid solar system. A focus on testing, quality control, and traceability ensures our solar power system offers an industry-leading warranty and reliability guarantee. Invest in yourself by going OSLEDER. This will be your most economical long-term investment yet.

Ease of installation was a key factor when I chose a supplier for our LED light installation. Osleder didn't disappoint on this. Performance of the lights greatly outshone every expectation that I had, even at a 20% dimmed level activated by the sensors we requested. I would certainly have Osleder as a front-runner for any future LED projects on our sites.
Osleder Lighting delivered a reduction in our energy costs of 78% and the installation looks outstanding. The lighting really is great and I am really pleased with the whole job from start to finish.
Sign up for our Newsletter