You are here: Home » Products » UV Germicidal Lamp » UV Germicidal Lamp For Home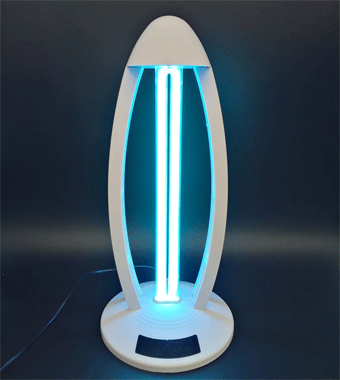 UV Germicidal Lamp For Home
| | |
| --- | --- |
| Rated Power: | 38W |
| Rated Voltage: | 220V |
| Rated Frequency: | 50Hz |
| Product Size(mm): | 210*110*460 |
| Package Dimensions(mm): | 230*230*480 |
| Control Method: | On/Off Timer |
Quick Start:
1st.  Check lamp tube loose or not, take out the plastic of remote control.
2nd.  Choose timing option according to your need, During this period please leave room and make sure there no people animals and plants.
3rd.  Time up the lamp will turn off automatically, please open windows about half an hour for ventilation.
◆  When the germicidal lamp is enabled, do not look directly at the UV lamp to avoid burning your eyes;
◆  When using the germicidal lamp, avoid direct exposure to the human body to avoid burning the skin;
◆  The germicidal lamp should be properly placed to prevent children from starting it;
◆  Ultraviolet rays have a killing effect on organic cells. Avoid prolonged exposure to pets and plants.;
◆  Attention should be paid to shielding valuable paintings and paintings in the room to prevent oxidation and discoloration due to prolonged ultraviolet radiation;
◆  Do not use germicidal lamps as lighting. Moderate disinfection is advisable. It is not recommended to keep UV lamps on for a long time;
◆  After disinfecting the room, open the window and ventilate immediately;
◆  If you need to check the operation of the germicidal lamp, you must use professional protective glasses to avoid corneal burns.
◆  Product Name: UV disinfection lamp
◆  Product Model:OSL-38w
◆  Rated Power:38W
◆  Rated Voltage:220V
◆  Rated Frequency:50Hz
◆  Product Size(mm):210*110*460
◆  Package Dimensions(mm):230*230*480
◆  Control Method:On/Off Timer
◆  Usage Area:10~40 m²
◆  Cable Length:1.5m
◆  Implementation Standards:GB19258-2012
◆ How to use the time switch
◇ Disinfection status: After power on, Choose timing option according to your need. Time up the lamp will turn off automatically.
After disinfection, ventilate for about 30 minutes before entering;
◇ Interruption shutdown: please unplug when not in use for a long time;
◆ The right way to disinfect
◇ Disinfection duration: Generally speaking, the duration of air disinfection should be between 30 minutes and 50 minutes, and it should not be disinfected for a long time;
◇ Irradiation range: When used for disinfection of articles, the direct irradiation distance of the ultraviolet lamp tube is better within 1 meter;
◇ Unmanned operation: Regardless of whether ozone is generated by the disinfection equipment, certain damage will be caused to the animals and plants during the UV disinfection operation. Therefore, the unmanned state must be maintained within the operation range during disinfection.
◇ Disinfection frequency: Under normal circumstances, it is advisable to sterilize the home environment twice a week. You can also increase the frequency of disinfection according to actual needs;
◇ Operating environment: doors and windows should be closed during disinfection operations to achieve better disinfection results;
◇ Equipment maintenance: Before performing disinfection operations, care should be taken to remove the dust attached to the surface of the lamp tube in order to achieve a better disinfection effect. Generally, it should be wiped every two weeks during use. When you find dust or oil on the surface of the lamp, wipe it at any time to keep the lamp clean and transparent;
◇ Extended operation time: if the humidity is high, or the temperature is lower than 20 ° C or higher than 40 ° C, the disinfection time may be appropriately extended or disinfected multiple times;
◆     Ultraviolet disinfection is widely used. It mainly kills bacterial propagules, spores, mycobacteria, coronaviruses, fungi, rickettsiae, and chlamydia. All surfaces, water, and air contaminated by the viruses can use ultraviolet disinfection.
◇ Application of sterilization in the operating room in the hospital, sterilization before surgery to prevent patient infection;
◇ Ward sterilization, such as pediatric ward, obstetrics and gynecology, infectious ward and so on;
◇ Ordinary household daily disinfection (sterilization of rooms, bathrooms, kitchens, clothing, cabinets, basements, etc.) Especially suitable for use in rainy or cloudy days;
◇ Factory application, aseptic workshop, food processing workshop of food factory, etc.
◇ School classrooms are sterilized to prevent cross-infection and reduce morbidity.
◇ Application in public buildings; install a suitable amount of sterilized UV lamp in the public ventilation duct and the central air-conditioning air supply duct to send sterile air to the room to prevent cross infection
◇ Dairy plants, breweries and bakeries in the food processing industry.
◆ If the UV lamp does not light up properly, please check as follows.
◇ Make sure the power plug is unplugged and the device is powered off before testing;
◇ After shutting down, shake the lamp head to determine whether there is looseness. If there is a poor contact, press the lamp head down firmly.
◆ After the UV lamp was sterilized, it continued to flicker.
◇We are a special lamp power supply. After the disinfection, the lamp flicker is normal, please turn off the switch directly.
Ease of installation was a key factor when I chose a supplier for our LED light installation. Osleder didn't disappoint on this. Performance of the lights greatly outshone every expectation that I had, even at a 20% dimmed level activated by the sensors we requested. I would certainly have Osleder as a front-runner for any future LED projects on our sites.
Osleder Lighting delivered a reduction in our energy costs of 78% and the installation looks outstanding. The lighting really is great and I am really pleased with the whole job from start to finish.
Sign up for our Newsletter