You are here: Home » Products » UV Germicidal Lamp » E27 15W 25W 220V UV Germicidal Lamp Suppliers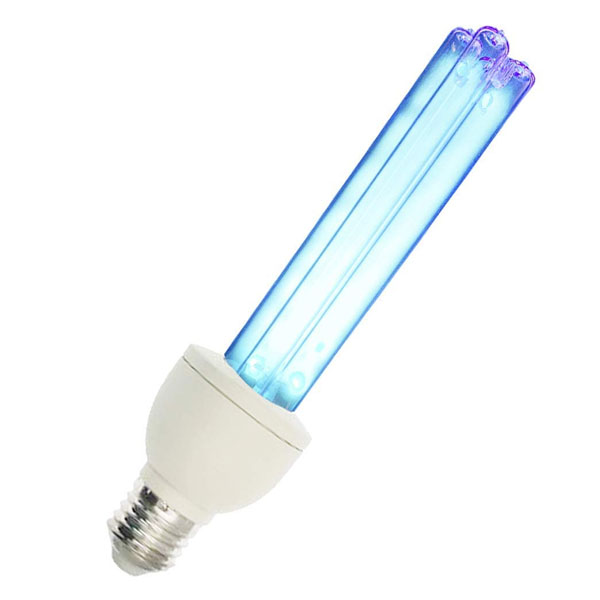 E27 15W 25W 220V UV Germicidal Lamp Suppliers
| | |
| --- | --- |
| Rated Power: | 25W/15w |
| Rated Voltage: | 220V |
| Emitting Color: | BLUE |
| Product Size(mm): | 212*50mm |
| Service life: | 8000 hours |
| Beam Angle:: | 360° |
The Warning when use this bulb
◆  Because the UV-C ray will hurt eyes and skin, so please don't look at the working bulb.
◆  People/ Pet / Plant can't be exposed to the UVC light, must left room when lamp work.
◆  Dirty air is the chief culprit in causing discomfort to the human body, It is very necessary to use this UVC bulb twice a week.
◆  Product Name: UV disinfection lamp
◆  Product Model:OS-UV04-25
◆  Brand :Osleder
◆  Rated Voltage:220V
◆  Emitting Color:BLUE
◆  Rated Power:25w/15W
◆  Material :ABS+Quartz tube
◆  UV wavelength: 254nm
◆  Product size:212*50mm
◆  Service life:8000 hours
◆  Interface: E27
◆  Beam Angle:360°
◆  Color :White
◆  Carton weight(50pcs/carton):13kg
◆ Carton size(50pcs/carton)°:230*230*500MM
◆  Applicable area :20-25㎡
◆  Application:Bedroom,quilt, pillow, bath towel, bathroom, tolilet, kitchen etc.
Ease of installation was a key factor when I chose a supplier for our LED light installation. Osleder didn't disappoint on this. Performance of the lights greatly outshone every expectation that I had, even at a 20% dimmed level activated by the sensors we requested. I would certainly have Osleder as a front-runner for any future LED projects on our sites.
Osleder Lighting delivered a reduction in our energy costs of 78% and the installation looks outstanding. The lighting really is great and I am really pleased with the whole job from start to finish.
Sign up for our Newsletter