You are here: Home » Products » UV Germicidal Lamp » Mobile Handheld Portable USB Purple UV Germicidal Lamp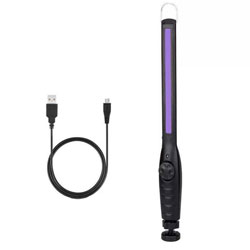 Foldable Portable USB UV Disinfection Lamp
| | |
| --- | --- |
| Material: | ABS |
| Rated Power: | 10w |
| Power Type: | USB Charging |
| Wavelength : | 254nm |
| Lighting : | 2-6 hours |
| Weight: | 237g |
◆  Material: ABS
◆  Mode:  OS-UV07-10
◆  Rated Power:10w
◆  Power Type :USB Charging
◆  Wavelength:254nm
◆  Lighting:2-6 hours
◆  Size: 37.5 * 4 * 3.5cm
◆  Weight:237g
◆  Packing:white box
Features:
– Portable, essential for home travel, easy to use.
– UV disinfection lamp, sterilization, sterilization efficiency up to 99%.
– Wide irradiation range, high efficiency, no odor of disinfectant, safe and no pollution.
– Various uses, toilet disinfection, baby underwear disinfection, can also be used in
disinfecting pet supplies.
Ease of installation was a key factor when I chose a supplier for our LED light installation. Osleder didn't disappoint on this. Performance of the lights greatly outshone every expectation that I had, even at a 20% dimmed level activated by the sensors we requested. I would certainly have Osleder as a front-runner for any future LED projects on our sites.
Osleder Lighting delivered a reduction in our energy costs of 78% and the installation looks outstanding. The lighting really is great and I am really pleased with the whole job from start to finish.
Sign up for our Newsletter