You are here: Home » Products » LED Tri-proof Light » Standard Triac Dimmable PC Tri-proof » Triac Dimmable LED Tri-proof Lighting PC Housing 600mm 30w 3330Lm 6000K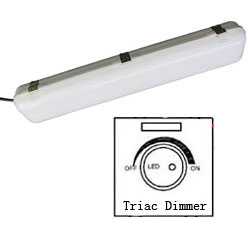 Triac Dimmable LED Tri-proof Lighting PC Housing 600mm 30w 3330Lm 6000K
| | |
| --- | --- |
| Power: | 30 W |
| Control type: | Triac Dimming |
| Color Temperature(CCT): | 6000K |
| Luminous Flux (LM): | >3330LM |
| Certification: | CE, Rohs, SAA, C-Tick, UL |
| Warranty: | 5 Year |
Triac Dimming
It is an expectation that when you buy a LED light fitting you will be able to control the brightness via the same dimmer you use with your halogen or other incandescent lights. LEDs use a different method to perform dimming known as Pulse Width Modulation.
On the other hand, halogens/incandescent lights use a TRIAC dimmer (the normal dimmer you have on your wall today) which is incompatible with the LED's PWM. To avoid having to replace all your dimmers or worse still, add additional wiring, there needs to be a way to convert TRIAC dimming to PWM.
First it may be useful to provide an overview of how a TRIAC (Triode for Alternating Current) dimmer works. The TRIAC dimmer controls the amount of power supplied to the light, the lower the power, the dimmer the filament will burn. The TRIAC is very clever in that it can manipulate the AC current (which is a sine wave) by rapidly turning the power on and off at different parts of the wave. In Australia the AC current runs at 50 cycles per second (50Hz) and the TRIAC can flip flop between ON and OFF 100 times a second (2 x 50Hz). Varying the duration of the ON/OFF cycle controls the amount of power that gets to the light which in turns affects the filament brightness. For example, the longer the TRIAC is in the ON state per cycle the brighter the light.
A typical Triac dimming wiring diagram is shown below (a):
A typical Triac dimming wiring diagram is shown below (b):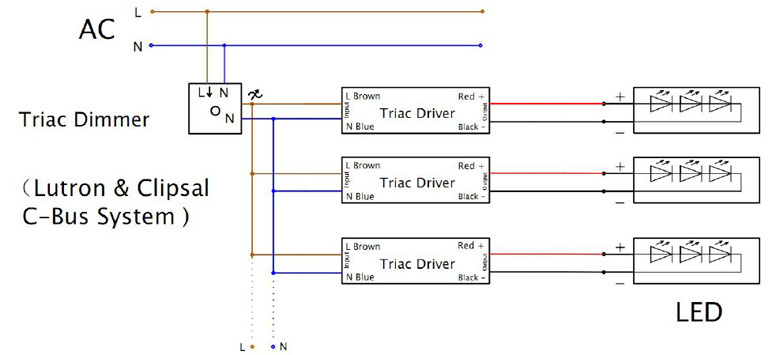 A typical Triac dimming wiring diagram is shown below (c):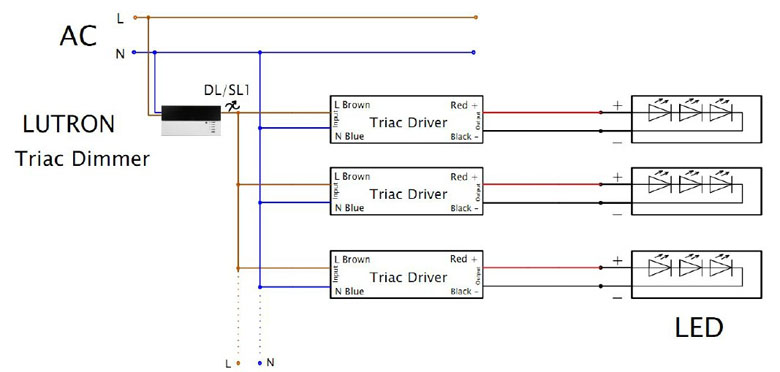 Product benefits
Functional design
High light output thanks to high-power LED
Quick and simple installation
With exceptional rated lifetimes
Zero restrike time
A compact lightweight construction
Provides additional benefits of energy savings
Significantly reduced relamp maintenance costs.
Areas of application
Suitable for indoor and outdoor applications
Commercial lighting: Supermarket/Shops/Exhibition hall/Parking place/gas station;
Public lighting: library/School/Tunnel/Metro/Bus/Train/Bus station, railway/station, airport;
Industrial lighting: Factory/Warehouse and Etc.
Product features
Waterproof, dust-proof, corrosion proof
Type of protection: IP65
Efficacy up to 110 LPW
Input Voltage: 85-265VAC
Powerfactor(PF):>95%
Epistar Chip
Ease of installation was a key factor when I chose a supplier for our LED light installation. Osleder didn't disappoint on this. Performance of the lights greatly outshone every expectation that I had, even at a 20% dimmed level activated by the sensors we requested. I would certainly have Osleder as a front-runner for any future LED projects on our sites.
Osleder Lighting delivered a reduction in our energy costs of 78% and the installation looks outstanding. The lighting really is great and I am really pleased with the whole job from start to finish.
Sign up for our Newsletter